With a neuroscience degree in hand, Hannah Chernock returned to
LCCC to pursue a career in artificial intelligence
After earning a bachelor's degree in neuroscience from The Ohio State University, Hannah Chernock couldn't find a job in her field. She took part-time jobs in retail and restaurants to support herself and pay her student loans, but the longer she looked for work related to her degree, the more she realized she was underqualified for the job she really wanted — one that specialized in cognitive computational neuroscience, which combines neuroscience, cognitive science and artificial intelligence.
"I felt like I only knew a subset of this, so I wanted to go back to school to learn the technology side," she says.
She returned to Lorain County Community College, where she had spent her first year of college, to earn an associate of applied business in software development degree, which she received in 2018 and was recognized for at the college's commencement ceremony in May 2019. Now she's pursuing a bachelor of science degree in computer information systems from the University of Akron through LCCC's University Partnership program.
"My dream seemed like it was at a standstill, and if it wasn't for LCCC, that's where it would have stopped," she says. "I wouldn't have had a way to continue my education like I needed to. Now I have more of a chance at the future that I want."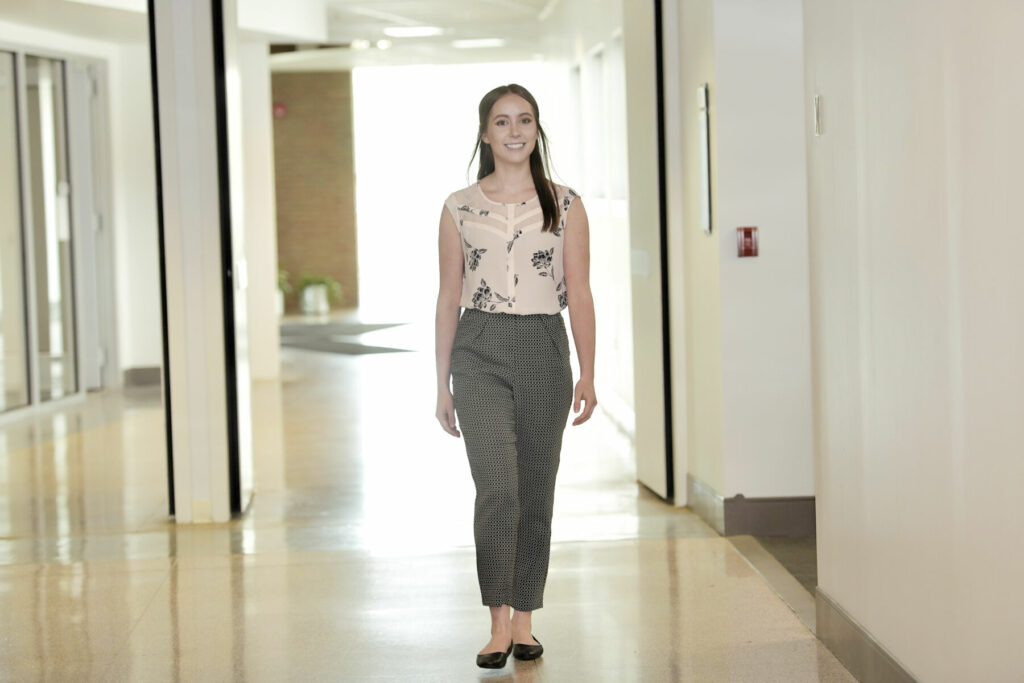 "My dream seemed like it was at a standstill, and if it wasn't for LCCC that's where it would have stopped."
Hannah Chernock - LCCC University Partnership Student
Family ties
When Chernock graduated from Avon Lake High School in 2009, her future was uncertain, but she knew that her journey would start at LCCC.
"I have strong family ties to Lorain County, so LCCC has always been close to our home and hearts," says Chernock, whose late great-uncle, Bob Wharton, served as chairman of LCCC's board of trustees from 1989 to 1995. Chernock's brother, sister and several cousins have earned their associate degrees there, so enrolling was an easy choice for her.
"I initially attended LCCC to find my way and start my foundation there," Chernock says. "That's where I became more academically focused and future oriented. It was the first time I felt school can be fun."
At LCCC, Chernock pursued an associate degree in sports and fitness management and transferred after her first year to The Ohio State University, where she planned to pursue a doctorate in physical therapy.
"My year at LCCC gave me the confidence to even consider OSU," she says.
Then an introductory psychology class piqued her interest in neuroscience.
"It was so cool learning all about the brain and how it processes information," Chernock says. "I knew it was going to be an integral part of my future."
Programming Pepper
When she returned to LCCC to build on her bachelor's degree from OSU, Chernock found that transitioning into a new field of study wasn't easy.
"There was a huge learning curve to overcome," Chernock says. "The way I had always studied computers was from abstract terms, like artificial intelligence, so to learn it from the side of hardware and software components, I felt like I was starting over," she says.
LCCC instructors worked closely with her to make the transition as smooth as possible. She says her personal success really mattered to her LCCC professors, and she wasn't just another face in a lecture hall full of students.
"The professors at LCCC are interactive and engaged," Chernock says. "They're so willing to reach out and make sure that every student understands. They really care about their students' success academically, as well as their careers."
Professor Mark Harms says LCCC's hands-on courses are designed to not only educate students but prepare them for future employment.
"At least 50 percent of students get an internship, apprenticeship, or full-time job in the field by the second year of their associate degree, and a large percentage are working by the time they graduate," says Harms, program director of the computer information systems (CIS) degree at LCCC.
Chernock's internship kicked off last year, when she joined LCCC's 2forty7 group, a team of student interns who work on software projects for the college. The internship has given her the opportunity to combine both of her degrees as she helps program Pepper, a humanoid robot that arrived at the college as a blank slate; anything it does must be programmed by the students.
"A lot of Hannah's neuroscience skills have a complete correlation to programming Pepper," says Don Huffman, LCCC's chief information officer, who launched the 2forty7 group internship a few years ago as an extension of the CIS 247 capstone class while he was a professor in the department. "We saw it as a win-win, to capitalize on how Hannah views the world through neuroscience and how Pepper would help advance her career in robotics and programming."
As one of seven students in the 2forty7 group, Chernock programs Pepper with responses and gestures that enable the robot to interact with humans in conversation. For example, Pepper might engage with high school students on campus visitation tours, or aid LCCC President Marcia Ballinger, Ph.D., at convocation.
"This internship has given me the opportunity to integrate neuroscience and technology," Chernock says."We program different behaviors and dialogue into Pepper depending on what the college needs. The programs we ultimately design and implement into Pepper rely on understanding basic human interactions and transforming those interactions in the program to produce realistic, humanlike behaviors."
Promoting education
On track to graduate with her bachelor's degree in spring 2020, Chernock hopes to find a job related to artificial intelligence, where she can apply both of her majors to develop other robots like Pepper.
"There's a lot of potential in AI and a lot of new discoveries to be made," she says.
Chernock credits the faculty at LCCC for advancing her education and positioning her for her future career.
"LCCC gave me that missing link," she says. "I wasn't a qualified candidate a year ago — I am now."
Chernock is having such a positive experience at LCCC that she promotes the college to her friends and family every chance she gets. When her cousin was having trouble finding a job in his field recently after graduating from college with an engineering degree, she convinced him to enroll at LCCC to get on track for employment. He's graduating with an associate degree in software development — the same degree that Chernock earned — and a certificate in web development, and she has no doubt that he'll find a job soon.
"Any time I hear that someone's not happy with the path they're on, I tell them to go back to school, to go to LCCC," Chernock says. "It's affordable and close to home, and you can get any level of education in any time frame you want."
"Any time I hear that someone's not happy with the path they're on, I tell them to go back to school, to go to LCCC."
Hannah Chernock - LCCC University Partnership Student