United Way of Greater Lorain County president and CEO Ryan Aroney
built a foundation of success at LCCC
He didn't have a car to get to college, so each day Ryan Aroney caught the first bus leaving Oberlin at 4:47 a.m., bound for Midway Mall. There, he transferred to another bus headed to Lorain County Community College. An early morning job was followed by a full day of classes, then baseball practice. Then he'd wake up and do it all over again. Today, at 35, Aroney doesn't know how he did it.
"Now I have to go to bed at 9 o'clock, or the next day is ruined," he says. "To do all that was crazy."
His journey at LCCC began a year after dropping out of a small private school. He was eager to resume his education, and this time he chose LCCC.
"LCCC had everything going for it," says Aroney, who earned as associate of arts degree in communications in 2005. "It was close to home, affordable, offered opportunities to grow, I could play baseball, and it had programs I was interested in."
He also found support from the LCCC community.
"A core value of LCCC is really good people who care," says Aroney. "I had great professors who were supportive and challenging. Everyone genuinely cares about you succeeding. People were in my corner, giving me everything I needed to be successful as a student and ultimately start a career."
His experiences at LCCC helped shape who he is today as president and CEO of the United Way of Greater Lorain County.
"It helped me with work ethic and instilled values that I took with me that still come out today in my work and personal life," he says.
A return to campus
After earning his associate degree, Aroney transferred to Cleveland State University to earn a bachelor's degree in communications. There, he met professor Cliff Anthony, who today is on the faculty at LCCC. Anthony says he knew early on that Aroney would be a success.
"While other students struggled to learn the rudiments of news writing, Ryan was already freelancing for mainstream publications," Anthony says.
The pair have remained close, with Aroney returning as a guest speaker in Anthony's classroom.
"Hopefully I've been able to show them you can apply the skills learned at LCCC in a number of different ways," he says. "It's surreal. It doesn't feel like too long ago that I was a student there."
He says when he steps onto campus, it feels like coming home.
"I feel the energy and passion of the students, doing everything they can to be successful, learning from people who have walked in their shoes," he says. "I love paying it forward. I was that person who wanted to be around success and see what that meant. I take what I learned and pour it back into the students, and that feels great."
He also continues to be one of those students, as he is enrolled in LCCC's University Partnership program in the Parker MBA program through Lake Erie College.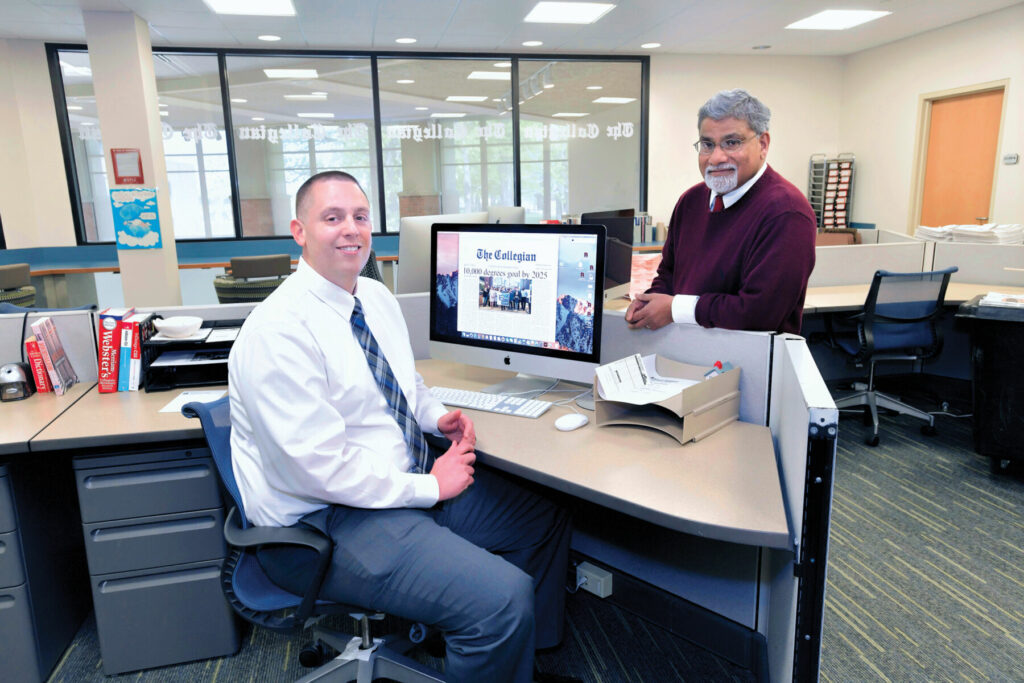 Finding his niche
Following graduation, Aroney worked as director of media relations for the Cleveland City Stars professional soccer team. The team folded in 2009, but his experience working within the community sparked a new interest.
"We were doing some really cool things, and I realized I was interested in community work," he says. "It was the first real passion I had outside of sports."
So when United Way advertised for a resource development specialist, he applied for and got the job. And when the organization shifted from a fundraising model to a community impact model, Aroney was responsible for explaining that shift.
"That was no easy task," says Bill Harper, executive director of United Way of Greater Lorain County. "Ryan approached that in a very thoughtful way. Right from the start, he was very committed to our mission."
Aroney is proud of a career centered around giving back to a community that has shown him so much support. In addition to speaking to classes, he returns to LCCC for the annual United Way fundraising campaign kick-off and participates on the advisory committee for the LCCC Vision Network.
These days, he drives himself to campus. But he remembers what it was like to board the bus that transported him to his future.
"Being from here and having that background helps build bridges," he says. "If I'm going to the college, saying 'LCCC graduate Ryan Aroney' opens that door a little more quickly. Same thing with corporate and community partners. It's a foot in the door to say I'm a kid who grew up in Oberlin and rode the bus to LCCC."
He says LCCC helped make him who he is, and anyone looking for a first-rate education should consider letting it do the same for them.
"I would absolutely tell someone to go to LCCC," he says. "It not only makes financial sense, but there are good people and it's challenging. My professors really pushed me, taught me to be a better student and got the most out of me. I'm definitely passionate about LCCC. It was a life-changing experience that built the foundation for me becoming successful."
"I'm definitely passionate about LCCC. It was a life-changing experience that built the foundation for me becoming successful."
Ryan Aroney - LCCC University Partnership student