North Ridgeville's Hannah Freeman achieved her dream of teaching
in her home district right out of college
Some people find their heroes on athletic fields, on movie screens and stages, or on the pages of a book. Hannah Freeman found hers in her second-grade classroom.
"I had this really awesome second-grade teacher, Sarah Dlugosz, who I looked up to so much," Freeman says. "I haven't seen her since, but I loved coming to school and being in her classroom."
That feeling of excitement and looking forward to what Dlugosz was going to teach inspired her dream.
"Ever since then, I wanted to be a teacher," she says.
There would be other opportunities and possibilities, career days and conversations and fleeting fancies. But she didn't waver from aspiring to teach.
"She never came to us with any desire to be anything other than a teacher," says her father, Michael. "I've never heard her say she wants to be anything else."
Staying close with her community
Freeman not only was sure what she wanted to do, she was equally sure of where she wanted to do it. She wanted to teach in North Ridgeville, where she graduated from high school in 2015 and where her father serves as police chief.
"I've had so many positive opportunities in North Ridgeville and been able to connect with so many experiences, and it's important for me to be able to do that for other people, to continue to make those connections," she says. "It makes you feel like you're part of something bigger than yourself."
She was also sure where she wanted to get her education to achieve her goals. As a member of the National Honor Society and with a drive to succeed, she had any number of opportunities open to her, but there was never any question where she wanted to continue her education. That was always going to be Lorain County Community College and its University Partnership program, which allows students to earn degrees from four-year universities from LCCC's campus.
"I really didn't look around," she says. "I was pretty set on LCCC from the beginning. I knew I wanted to do the University Partnership with Ashland University, so that was a big selling point."
She says finances also played a role in her choice.
"My goal was to graduate without debt," Freeman says. "And because I am connected to my community, I liked the proximity to home."
Thanks to LCCC, Freeman was able to chase her teaching dream while continuing her commitment to her community, pursuing her education degree with a short commute to school and without accruing student loan debt.
"I knew I wanted to do the University Partnership with Ashland University ... my goal was to graduate without debt."
Hannah Freeman - LCCC University Partnership Graduate
Solidifying her career goals
Although she developed an interest in teaching in second grade, it was awhile before Freeman actually began teaching. That didn't come until sixth grade.
With a police officer for a father, she was a natural fit to volunteer at Safetyville, the North Ridgeville Police Department's program in which children learn about safety in an interactive miniature village. Several elementary teachers from North Ridgeville schools take part, but Freeman was working at Safetyville long before she was a teacher herself.
"I think that just solidified in her mind what she wanted to do for a career," her father says.
Safetyville was just the beginning of Freeman's experience instructing others. She was a cheerleader throughout her four years at North Ridgeville High School and, after graduating, immediately began coaching the junior varsity cheerleading squad — a position she still holds today.
"For me, cheerleading was such a great experience, such a positive outlet," she says. "I wanted to be able to provide that to another set of high schoolers."
She says her love for the sport was a driving factor in wanting to continue her involvement in it.
"I wanted to be connected and be involved in my community, and coaching gave me a way to do that," she says.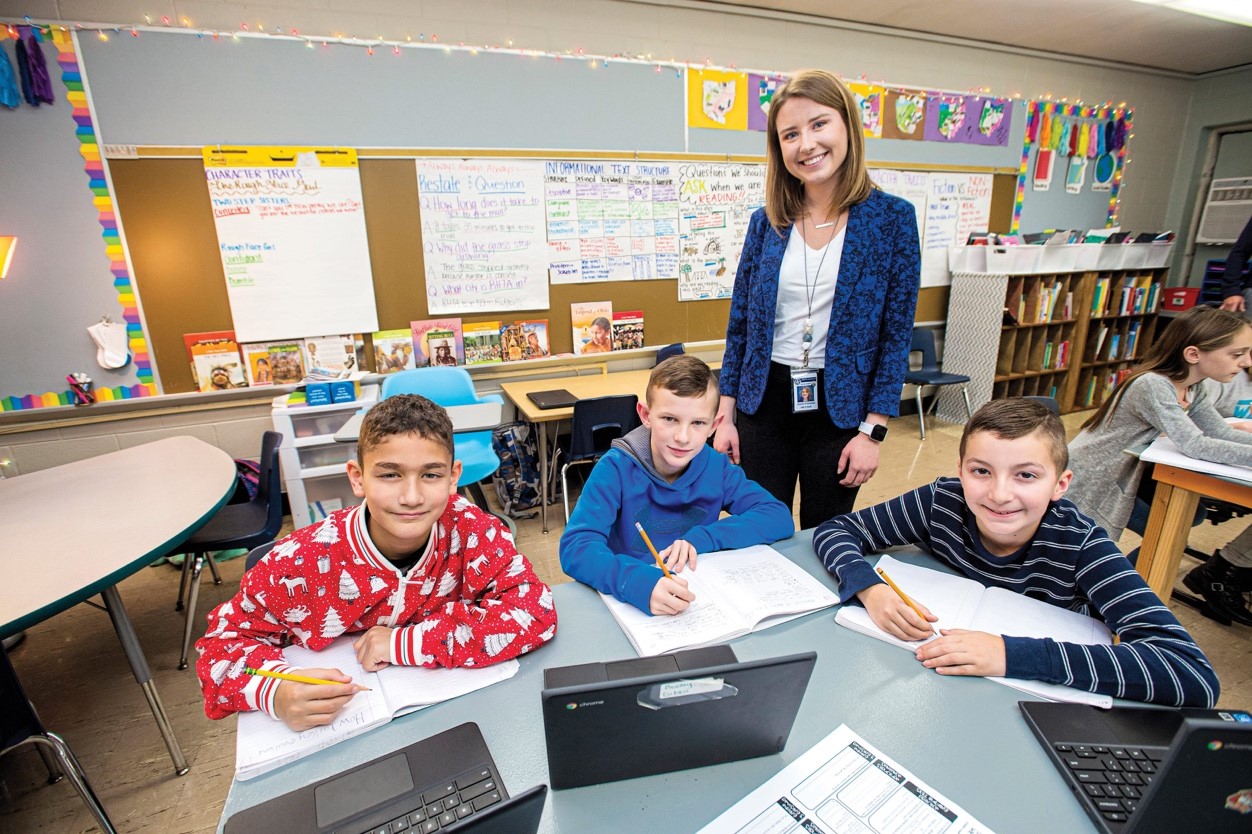 Freeman's father Michael's connection to the college from his police work — including continuing education courses when he became police chief and hiring officers who graduated from LCCC's police academy — made him all the more certain that his daughter was making the right choice.
"Between the leadership there and the opportunity we, as citizens, have there, it's the pearl of Lorain County," he says.
Freeman says that LCCC has so much to offer and students with dedication and drive have every opportunity to succeed. And just as she had always taken on extracurriculars in her hometown, she joined LCCC's chapter of Phi Theta Kappa Honor Society and served as president her senior year.
Her parents were impressed by her LCCC experiences. Both had attended a four-year university, and when she talked about her one-on-one time with her professors when she needed assistance beyond the classroom, they told her she wouldn't necessarily be getting that level of attention at another school.
"We didn't have the personal exposure that she spoke of," her father says. "At LCCC, it was almost like she was attending a private institution. You don't get that many places, where the professor knows your name."
Freeman's experience was so positive that her younger brother, Hayden, is now attending LCCC with an eye on a criminal justice degree from Youngstown State University through the college's University Partnership.
Landing her dream job
With her academic and extracurricular profile and the feedback LCCC's instructors provided on her resume and cover letter, Freeman began applying for teaching jobs when she graduated in spring 2019. The job that interested her most, naturally, was the one in her hometown — a fourth-grade STEM (Science, Technology, Engineering and Mathematics) teaching position at Ranger High-Tech Academy.
And then she got the call.
"They asked if I wanted to think it over," she says. "I said, 'There's nothing to think over. I'm taking the job. Thank you very much.'"
She hadn't anticipated landing her preferred job directly out of college, but her strong credentials and commitment to her community earned her the position. Today, the 22-year-old is doing the only job she's ever wanted in the only place she wanted to do it, teaching and coaching cheerleading, passing her love of education on to another generation in her hometown school district.
Now, the girl who felt that tinge of excitement walking into elementary school is a young woman inspiring that feeling in others. Her students often line up in front of her desk and, one by one, come to her with their questions, their comments and their stories. Remembering the example set for her in second grade, Freeman gives them her absolute best.
"You do it by being open to them and making time in your day to be interested in their lives and ask questions and greet them and make sure, if they're having a rough day, that you're reaching out," she says.
She says her role goes beyond teaching.
"As teachers, we wear so many hats throughout the day," she says. "Sometimes I feel like a counselor, other times I'm like their mom. You're a jack of all trades, and you just try to give them a warm and welcoming environment."
That's the environment created for her as a child, and today, having successfully chased her dream at LCCC, she pays it forward each day, doing the job she loves most in the place she loves best. And she says she'd do it the same way given a different choice.
"I would do the same over and over again," she says. "I loved my time at LCCC, and I recommend it to anyone who asks me. A lot of my colleagues have children going into college, and I talk about LCCC and always give it my highest praise."